I wrote about White Day last March.  So I won't repeat myself again.  This week is a week of baking and saying thank you to all my wonderful students.  Look forward to tasting some of these cookies this week.  More later.  I will post some of the recipes tonight.  No time now.
Good Evening.  Here are the recipes:
Missouri Cookies
---
Ingredients
1/2 cup (1 stick) unsalted butter
3/4 cup sugar
3 tablespoons unsweetened cocoa powder
1/2 cup milk
1/8 teaspoon kosher salt
3/4 cup chunky peanut butter
1 teaspoon vanilla extract
3 cups quick oats (aka 1 minute oats)
Preparation
1. In a saucepan over medium heat, melt the butter then whisk in the sugar, cocoa, milk and salt. Turn the heat to high and boil mixture for 1 minute. Remove from the heat.
2. Stir the peanut butter and vanilla into the chocolate. Add the oats and stir until well combined.
3. Using a small ice cream scoop or a 1 tablespoon measure, form dough into cookies( they can be flattened into cookies or into balls) and place on parchment paper to cool.
4. Allow to cool 30 – 45 minutes.
BAKER'S Best Chocolate Chip Cookies
This is our go-to chocolate chip cookie recipe. When you have a craving for a classic chocolate chip cookie, bake up a batch of these!
Heat oven to 375°F.

Beat butter, sugars, eggs and vanilla in large bowl until light and fluffy. Stir in flour and baking soda until well blended. Add chocolate chips; mix well.

Drop tablespoonfuls of dough, 2 inches apart, onto baking sheets.

Bake 10 to 12 min. or until lightly browned. Cool on baking sheet 3 min. Remove to wire racks; cool completely.
Tea Cookies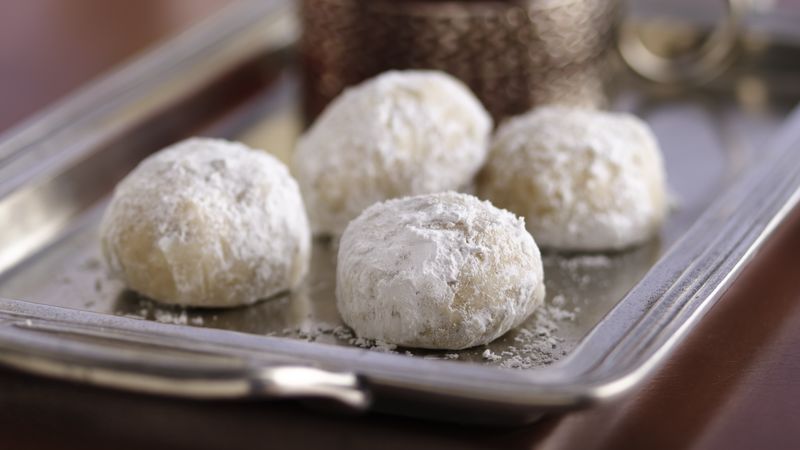 Ingredients
Directions
Beat together the butter and confectioners' sugar till creamy. Add vanilla.

Mix the dry ingredients, stir into creamy mixture. Blend well.

Add the nuts, mix well, roll the dough out into two balls. Wrap in plastic wrap and chill for at least 1 hour in the refrigerator.

Flatten dough out and cut into 15 or 20 equal size pieces, shape into balls. Place on ungreased cookie sheet.

Bake at 375 degrees F (190 degrees C) for 10 to 12 minutes till firm but not brown. While still warm roll into confectioners' sugar, let cool and roll again.
Soft Peanut Butter Cookies
Cream butter, peanut butter and both sugars together.
Add eggs, one at a time, beating well.
Add baking soda, powder and vanilla.
Stir in flour.
Roll into balls, roll in sugar. Flatten cookies, using a fork, in a criss-cross pattern.
Bake on ungreased cookie sheet at 350 degrees for 6-7 minutes or adjust to suit your oven and size of cookies!